Hermetic Door
Automatic Hermetic Sliding Door at Skomdoor
High quality, strong and durable air seal door systems – equipped with a circumferential hermetic sealing system that are taken into use for operating theatre, laboratories, in large halls and pharmaceutical industry.

Our hermetic door meets the design and security requirement of GMP. It's a Manuel or automatic door which customized for medical operating rooms, patient areas, kindergartens. We select the PANOSONIC auto system whose motor in small size with large power, lower noise with long-lasting working life. Due to the first class seal rubber strip around the edge band of door leaf which it will stick closely to the framing lead to the good resistance to air loss. They are ideal door systems preventing the exchange of the external and internal air.
Hermetic Door
Special PVDF coating aluminum frame system will make SAMEKOM hermetically sealed door easier to install and maintain, with air tight 3M rubber seal around the door panel. American brand FORMICA HPL facing will make the door anti-bacteria, waterproof, fireproof and easy to clean.
Copper door seal which slide down automatically when close the door to have better control of the airflow.
Compared with old school stainless steel hinge, SAMEKOM aluminum hinge will make the opening smoother and more durable. Maximum weight our hinge can stand is 100kg per door slab.
Lead-shielding function is available for x-ray or CT MRI room use.
Both manual hinged hermetic door and automatic hinged doors are available.
Sliding Hermetic Door System:
PVDF coating aluminum frame has a better performance in terms of anti rustic, hygiene, and easy installation for SAMEKOM sealing sliding door.
FORMICA Versatile HPL door facing to lessen the spread of infection in commercial area, while have better performance in terms of impact resistance and waterproof function .
Double tempered glass integrated window are optional.
STC soudproof up to 37Db.
PANOSONIC auto system for sealing sliding door will make the control system more steady and long lasting.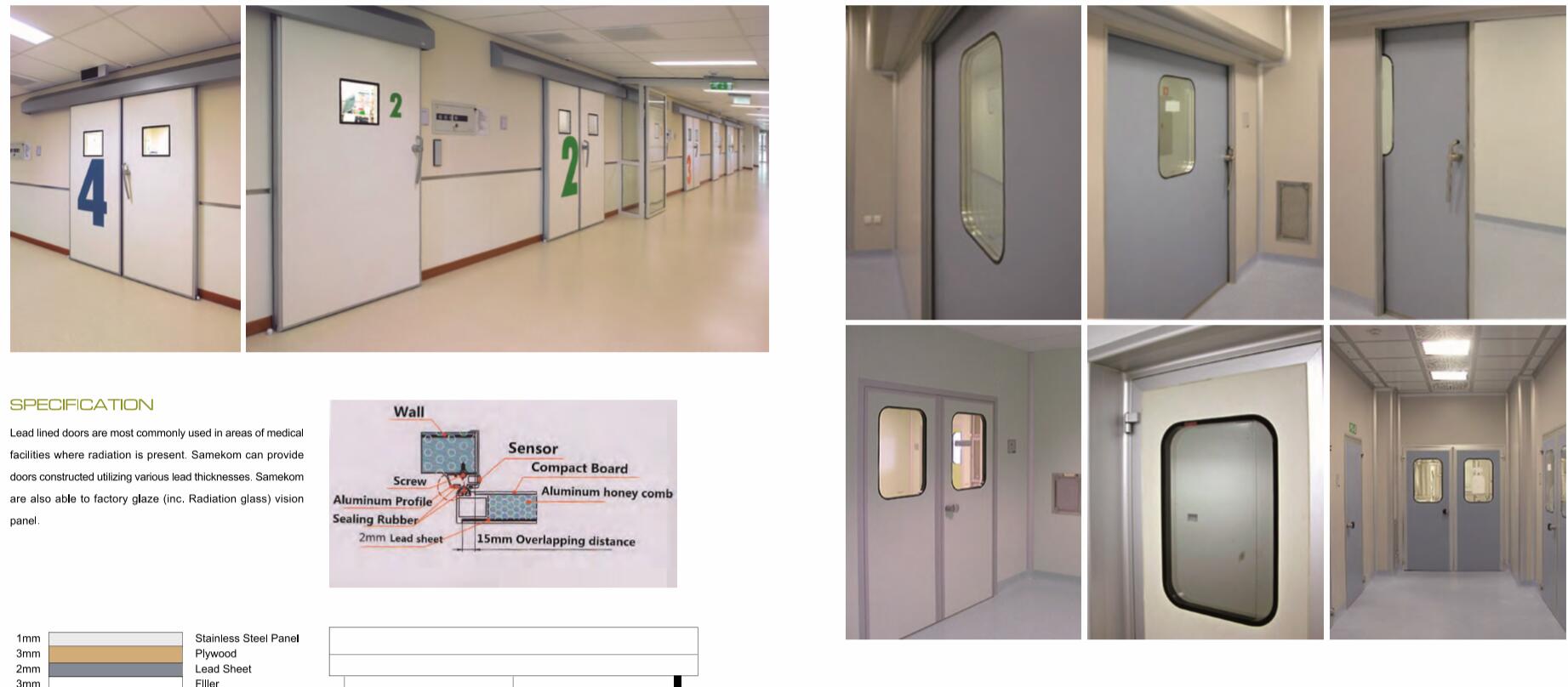 Displaying 1 to 13 ( of 13 products)
Hospital Door
No1 Xinxing Industrial Zone,Mashe,Lishui Town,Foshan,PR.China
+86-13113766257