Hermetic doors: equipped with circumferential sealing system
In a hospital – whether multispecialty, clinic, surgical department, patients are kept in rooms for better care and look after to get them come out of ailments. For rooms, where patients are kept, should be airy, hygienic and spacious enough to provide a healthy environment. Room doors should be a bit spacious and big enough where installation of high quality
patient room doors
is important.
These doors are available in a variety of ranges like steel ward doors, ICU door, hemetic door, aluminum frame glass entrance door, X-ray door, UL listed, fire door and different others.
Are you looking for durable, strong and high quality doors for hospital or clinic? Do you want to ensure installation of doors in the most effective way to enhance the visibility and other functions?
Choosing a new range of high quality hermetic doors are in advanced door systems that are well equipped with a circumferential hermetic sealing system – taken into use for operating theatres, laboratories, in large halls and pharmaceutical industry. Hermetic doors are equipped with a circumferential hermetic sealing system and used for laboratories and various other areas to prevent the exchange of the external and internal air.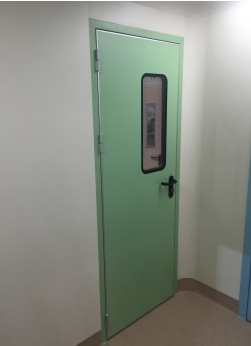 We have been using the innovative aluminum frame instead of traditional wooden frame for all the hospital patient room doors that give much higher installation efficiency in comparison to wooden doors. Not to mention the structure that will give a wider and higher opening for patient room that need by modern architect.
These hermetic door capping is aluminum profile that makes all the door body water resistance, strong and easy to maintain. All the door leaf are filled aluminum and solid wood block instead of chipboard that are giving doors better impack resistance and performance.
Hospital Door
No.1 Yiheng Rd. Xizi Industry District, Hechun Village, Lishui Town, Nanhai District, Foshan City
+86-13590618692